The French International Packaging Exhibition ALL 4 PACK 2018 (formerly EMBALLAGE) was founded in 1947 and is held every two years. It is hosted by Comexposium, the largest exhibition group in France. The exhibition plays an important role in Europe, the Middle East and Africa.. It is one of the most influential and largest international packaging exhibitions in the world. It has become the most important meeting place for buyers and decision-makers in the food industry around the world, representing the development and innovation direction of the international packaging industry.
The French International Packaging Exhibition Hall has a total area of over 200,000 square meters and uses two major exhibition halls. The 2016 International Packaging Exhibition in France is from 1,500 companies in 20 countries, 50% of which are from overseas exhibitors and 450 new exhibitors. The top 10 countries and regions are: France, Italy, Germany, China, Hong Kong and Taiwan, Turkey, Spain, Belgium, the Netherlands, the United Kingdom, and the United States, a four-day French packaging exhibition attracted a total of 87,800 professional visitors.
DAY YOUNG will first visit the Parc des Expositions de Paris Nord Villepinte in the North Villepinte exhibition in Paris, France in November 2018, offering a wide range of disposable tableware to customers around the world, including paper cups, coffee cups, hot drinks cups, PET cups, PET covers. , PP cup, PP soup cup lid, plastic fruit and salad box,, deli container, ice cream cup, Yogurt cup, fried chicken bucket, lunch box and all kinds of paper lunch boxes, to meet the needs of customers.Let the world Seeing Taiwan's high standard manufacture food containers and design, let Taiwan go out of the world and let the world enter Taiwan.
Since 1996, we have continued to innovate and develop new products, and we are committed to manufacturing high-quality and multifunction food packaging to meet consumers need. At the same time, we also pay attention to environmental protection and natural sustainable products, such as PLA cup, and paper straw. During the show we will present new arrival items such as paper food pail, fold to go paper box, paper food tray, and PP ripple cup..etc.
DAY YOUNG
Provide the most advanced packaging solutions for your food and beverages.
Whether you are looking to apply new concepts, or promote your products with new design on food packaging, Dayyoung always the best option for you.
Our products have been successfully serve worldwide clients by food service distributors, ice cream manufacturers, beverage shops, international chain stores, convenience stores, restaurants, and international airline, around the world.
【Exhibition Information】
2018 France Exhibition ALL4PACK
Exhibition period:2018/11/26(Mon) ~ 2018/11/29(Thu)
Location:Parc des Expositions de Paris Nord Villepinte
Booth No.:7 C 074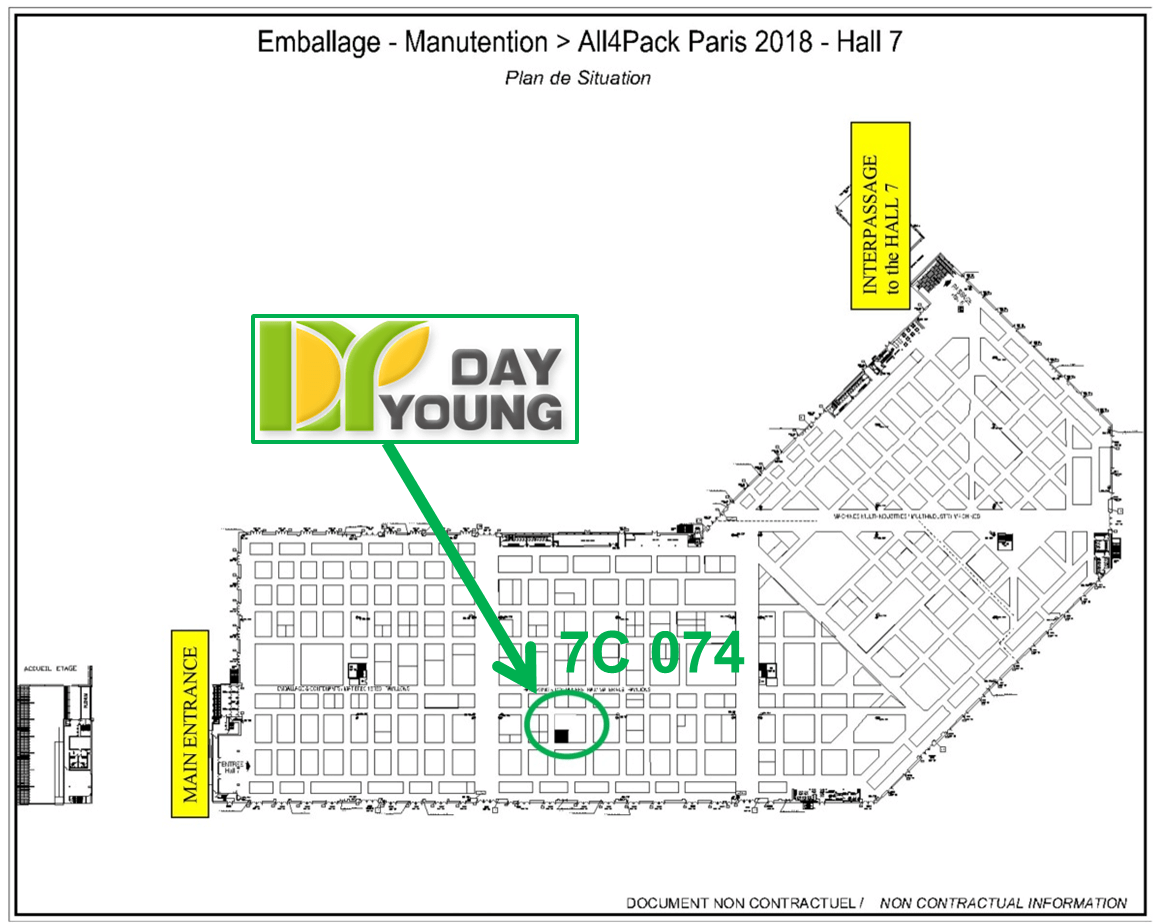 We sincerely welcome you to visit our booth:Enquiry contact
TEL : 886-4-852-8984
FAX : 886-4-853-2968
E-mail : sales@dycup.com